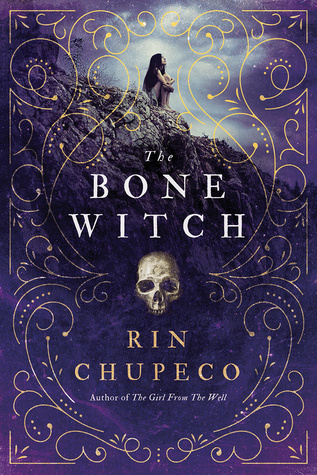 ★★★1/2 (3.5 out of 5)
Rin Chupeco's The Bone Witch has been garnering a lot of online buzz prior to its March 2017 release — and rightly so.  It's like Memoirs of a Geisha, if only the geisha were magic-wielding warriors who fight evil across the land.  Sounds great, right?  And in principle, it is.  In principle.
The Bone Witch tells the story of Tea, an asha.  Think of asha as geisha who not only have to entertain paying guests, but must also learn and use magic for a variety of purposes.  Tea herself is a Dark asha, or Bone Witch, in that she can use necromancy to raise the dead — something she does "accidentally" a couple of times throughout the novel to varying effect.  Sounds pretty interesting so far, right?  And when you add in dangerous mystical creatures, an enemy known as Faceless, a little romance, and plots of revenge, we should be looking at YA Fantasy Book-of-the-Year.  So what's the problem?
Unfortunately, a majority of the novel (at least 90% of it — no joke) focuses on Tea's training and learning the ways of the asha and it features is A LOT of exposition!  Huge chunks of the book are taken up with people simply explaining things to Tea.  I have to admit that I lost interest multiple times throughout the read and had to step away from it from time to time. Whatever happened to the concept of "show, don't tell"?  And since 90% of the book is about Tea's training, the whole thing feels like a like a set-up — with very little actual reward and only the promise of more to come.
And there will be more to come.  In response to a question on Goodreads asking if this will become part of a trilogy, Chupeco stated that she will at least write a sequel.  Good!  Because the world she has created in The Bone Witch universe is an intriguing one that should be revisited.  But I hope that when she does, she puts all of Tea's training to good use — because I've seriously had enough exposition already!
So, if you're looking for a new YA series with lots of action, look elsewhere.  But if you want a fantasy with some terrific world-building, interesting characters, and the hope of exciting times to come, go ahead and give The Bone Witch a try!
Also, it should be noted that the cover art is absolutely wonderful!
A special thanks goes out to Rin Chupeco, NetGalley, and Sourcebooks Fire for the advance reader copy in exchange for an honest review.
The Bone Witch will be released on March 7, 2017.  Pre-order your copy HERE.